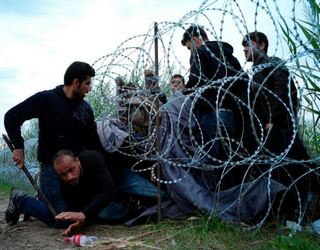 I am catching up with posting online my articles.





This is the continuation of the previous article:

FEAR OF SYRIANS AND OTHER MUSLIMS - PART 1
FEAR OF SYRIANS AND OTHER MUSLIMS - PART 2
FEAR OF SYRIANS AND OTHER MUSLIMS - PART 3
FEAR OF SYRIANS AND OTHER MUSLIMS - PART 4
FEAR OF SYRIANS AND OTHER MUSLIMS - PART 5
FEAR OF SYRIANS AND OTHER MUSLIMS - PART 6
FEAR OF SYRIANS AND OTHER MUSLIMS - PART 7
FEAR OF SYRIANS AND OTHER MUSLIMS - PART 8





This thing with the consequences of not helping the Syrians who fled to Europe also applies to the next point. Thus European Union has decided to help officially the Syrians and thus each country of the union should take care of certain number of refugees and secure their survival needs. But obviously not every refugee will receive this help and there will be many who will have to find the ways to secure their survivor. And here I do not have to really say much about what is going to happen. They will have to simply find a job ( which most probably will be low paid ) or otherwise they will be forced into doing some criminal activities ( drugs, prostitution, robberies etc. ).

Well... we all know that this is going to happen and in some way we are afraid of it. And this is also the reason why Europe decided to put soldiers on the borders to prevent inflow of more refugees. I know for sure that this is not going to stop them completely and it is only going to slow down the pace at which it is happening.

Of course here we have also another problem that among the refugees there are people from Middle East who take advantage of this situation by pretending to be a refugee from Syria and who try this way to get to Europe. I know that this is "unmoral" but what would you do if you were in

their position ?

If you were poor and there was no hope for you to ever have a good quality of life wouldn't you do the same ?!

SUMMARY

So as we can see there are few points of concern when it comes to Muslims. But then it is also very easy to see that we judge them quickly and we do not see that us - the civilized people from Europe - do and we also did in the past the same nasty and mean things which are comparable with the suicide terrorist attacks done by extremists Muslims who interpret their holy book The Quran in this way.

Thus we either stop this easy, quick and automatic judgment of the Muslims and we start to look at the facts of the reality. And only then we make a decision which will be best for Europe as well as the refugees from Syria. Yes... I realise that there are people who pretend to be refugee because they want to get to Europe and have an easy life. I realise that this is point of concern for Europe. But we must not forget that most of these refugees are human beings who fled from the war zone and who really need help.

I say it again...

IF WE DO NOT HELP THEM THE CONCEQUENCES OF NOT HELPING THEM WILL BE MUCH GREATER THAN THE COST OF HELPING THEM.

But it is also important to say that this is not just about what is less costly for us. In this situation - when so many Muslims will live among other nations, other religion and other cultures - we will have the opportunity to get to know us better and maybe we will finally realise that we are equal beings who could live together on this planet in peace and in abundance. I know that there is a possibility of big conflict between the Muslims and the Europeans ( mainly Christians ) but we cannot think only about the bad because as I said we have a great opportunity to build something new and better for all human beings on this planet.






COMMENTS
---