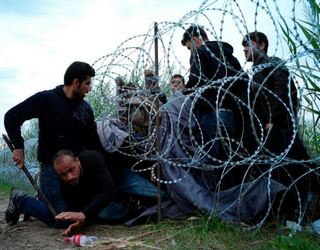 I am catching up with posting online my articles.

This is the continuation of the previous article:
FEAR OF SYRIANS AND OTHER MUSLIMS - PART 1
FEAR OF SYRIANS AND OTHER MUSLIMS - PART 2
FEAR OF SYRIANS AND OTHER MUSLIMS - PART 3
FEAR OF SYRIANS AND OTHER MUSLIMS - PART 4

In this article we are going to be looking at the point of killing infidels. And this is something that most of the Europeans and basically the whole world is afraid of when it comes to Muslims. This point here is closely related to the 1st one about Osama Bin Laden and suicide terrorist attacks but still then I have approached this point from a little bit different perspective. Now I will look at the Islam as a religion and its holy book Quran.
So apparently "the Quran contains at least 109 verses that call Muslims to war with nonbelievers for the sake of Islamic rule. Some are quite graphic, with commands to chop off heads and fingers and kill infidels wherever they may be hiding. Muslims who do not join the fight are called 'hypocrites' and warned that Allah will send them to Hell if they do not join the slaughter". *What does the Religion of Peace Teach About... Violence
This is really scary and this is why "non-believers" are so concerned when it comes to Muslims. It is really difficult to believe that almighty and loving god Allah is calling its followers to take life of those who do not believe in him. But then we have to bring up here the point that Christians at some point did exactly the same things. We all know about the Inquisition and what it did few centuries ago. Tortures and burning alive was all rightful to do in those times. So basically speaking there is really no difference between burning somebody alive and chopping somebody's head off.
Inquisition is not the only example of Christians who used violence against the non-believers although they were representing the almighty and loving god. Forcing others to change their beliefs and religion started many centuries before the Inquisition and as a matter of fact continues in some way till today. One clear example of it - although it is changing lately - is how Christians approach the topic of homosexuality.
So you'll see... the followers of Allah are not the only ones to be feared off. Yes... it is something really shocking to hear in 21st century that Muslims chop off somebody's head but I tell you... Christians are not better. Go on internet and look for images about the depleted uranium bombs used in Iraq, Libya etc. by the Christian presidents and Christian soldiers. In this situation beheading somebody is like a reward because then you are dead and you don't suffer anymore. On the other hand once your body is deformed by the radiation from the bomb with the depleted uranium then your whole life is a constant suffering.


To be continued
COMMENTS
---