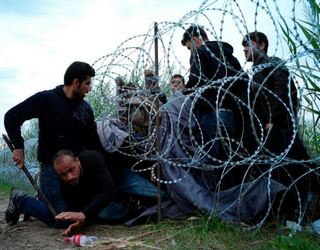 I am catching up with posting online my articles.

This is the continuation of the previous article:
FEAR OF SYRIANS AND OTHER MUSLIMS - PART 1
FEAR OF SYRIANS AND OTHER MUSLIMS - PART 2
FEAR OF SYRIANS AND OTHER MUSLIMS - PART 3
FEAR OF SYRIANS AND OTHER MUSLIMS - PART 4
FEAR OF SYRIANS AND OTHER MUSLIMS - PART 5
FEAR OF SYRIANS AND OTHER MUSLIMS - PART 6
FEAR OF SYRIANS AND OTHER MUSLIMS - PART 7

So let's continue with our articles about the Muslims and what we can expect and what we should fear of them as they escape from the war zone in Syria and they flood Europe. Thus let's look at the point 4 which was listen on Day 1262_2015-09-30 - Fear of Syrians and other Muslims - Part 2.
Now... the undeniable fact is that many of these people have lived in the war zone for almost 4 years. Of course not everybody was on the front line all this time but still many of the people lived in a place where there were bombs falling down from the sky and they were not sure how much longer they would live. Apart from this they saw many dead people ( including their family members ) with their body's quite often being torn apart as a result of the explosion of the bomb. Then we have women and teenage ( maybe even children ) girls who have been raped by the soldiers. Then we have people who have been starving and not getting proper nutrition for long time. Then we have people who have lived in ruins of the destroyed buildings.
I know that we have seen a lot of war films on TV. But these people experienced the hell of war on their own skin and without any doubt this has left a mark on them. Psychologically many of these people are completely destroyed and they have got lost in what is moral and what is not. It will take them many years to get over it but in the meantime they will live among Europeans. And I know for sure that they will do some things, which will be shocking to us.
And this is one of the things which we will need to take into consideration. But I want to point out here that they will do it not just because Muslims are bad people. It is because simply because - as I said - they have got lost themselves and their moral standards as a result of living in the hell of war zone. It does not matter whether you are Muslim, European or American. War leaves a psychological mark on anybody and it takes time to get over it.
So Europeans !!! Do not judge the Muslims so easy for doing some immoral things. It has nothing to do with their religion. We must understand and we must help them. Because otherwise we will have to face the consequences of it. And if you worry about how much money this will cost you then I tell you this thing:
The consequences of not helping the Syrians will be much greater and much more expensive than the cost of helping them.


To be continued
COMMENTS
---