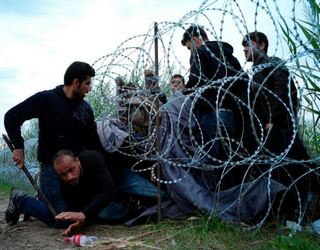 I am catching up with posting online my articles.

This is the continuation of the previous article:
FEAR OF SYRIANS AND OTHER MUSLIMS - PART 1
FEAR OF SYRIANS AND OTHER MUSLIMS - PART 2
FEAR OF SYRIANS AND OTHER MUSLIMS - PART 3
FEAR OF SYRIANS AND OTHER MUSLIMS - PART 4
FEAR OF SYRIANS AND OTHER MUSLIMS - PART 5

But even though there are at least 109 verses in Quran which call Muslims to war with non-believers this thing is actually not so straight forward. Because when I was searching for this topic on internet I also found other points of views.
And so for example in this article:
Does Islam Say: "Kill The Infidels"? it is written that Allah gives out clear orders:
NOT TO FIGHT AGAINST THOSE WHO ARE NOT FIGHTING AGAINST YOU...
Thus as a matter of fact Allah said something completely different:
"Allah ordered believers in the Quran to wage combat against terrorism - 14 centuries ago. And the "struggle against oppression, terrorism and tyranny" in the Arabic language, it is called, 'Jihad'."
So I guess we have a little problem here with the interpretation of the words of the Allah. In reality this is nothing new as we could see it happening in every religion. We can see it clearly in the Catholic religion itself - Protestant Church, Orthodox Catholic Church, Jehovah Witnesses, Jews etc. They all talk about the same god but they all have different interpretations of what was said and meant.
You'll know... this is really nothing difficult to explain why this is happening. It has even its own psychological term - communication noise. The Bible as well as the Quran have not been written directly by god but they were written by people. In the case of bible it has been written some years after the death of Jesus. And here we have the example that 4 Apostles ( disciples of Jesus ). Apparently they wrote the things under the guidance of god or Holy Spirit but still there are differences in how they wrote the story about the Jesus and his teachings. Even though the Christians may not agree with me, I know that the difference comes simply form the point that they wrote their books some years after the death of Jesus. And we all know the wit the time we tend to forget and change the interpretation of what happened in the past.
Then we have also the point that Catholic Church altered the content of the Bible to suite its needs and so the bible as it is today it is not really how it was written almost 2000 years ago.
And of course we cannot forget that the Bible has been translated into different languages. And what does it have to do with our case ?
Well... each translation was altered and changed according to the language skills of the translator, his own "spiritual" development and capacity to understand what was originally written and meant by the Apostles.
Thus in the end the Bible as it is today is not telling us exactly what happened and what was meant by Jesus. And there is a proof of it. There have been found some original scripts which tell a different story about Jesus.


To be continued
COMMENTS
---