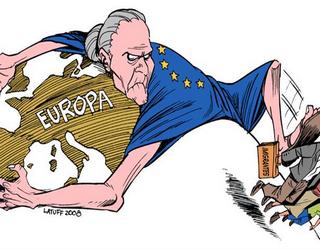 This is the continuation of the previous article:
REFUGEES FROM SYRIA NEED HELP - PART 1
REFUGEES FROM SYRIA NEED HELP - PART 2
REFUGEES FROM SYRIA NEED HELP - PART 3
REFUGEES FROM SYRIA NEED HELP - PART 4
REFUGEES FROM SYRIA NEED HELP - PART 5

So this ( finding constructive solution to conflictive situations in your direct and personal environment ) an example of how you will stop giving your power and your energy towards creating wars in this world. But as I said this is just one example. And thus if you stop giving up right from the beginning because you think and you believe of yourself that you are small and insignificant or because you think that you are far away Syria and you can do nothing about it, and you start really investigating your life, your thoughts, emotions and your attitudes, I guarantee you that you will find more things in your life which - if corrected within yourself, by yourself and as yourself - will change this world and will help the people in Syria and other refugees and immigrants.
You must understand that what is happing in Syria right now it is because we ( as whole humanity ) have created together a system, which does not support peace and life and instead it abuses and kills life. And as long as we do not change the system from within, which means that each one of us does not change himself/herself ( because we are the gods and the creators of this system ) then everything what we do ( to help the refugees ) will only be dealing with the symptoms. And because the core of the problem ( which is you and me and everybody else ) does not change thus problem and the symptoms will reappear again and this is just a matter of time. The history of humanity is a clear evidence of what I am talking here about. We have constantly wars somewhere in the world and we have constantly refugees somewhere in the world.
Unfortunately this is just a beautiful idea about having a system in which there are no wars and no refugees. But you must also understand that this idea is not utopia. It is very possible to make it real. But then you must understand that it will not happen magically by itself. You must dedicate your time, your energy and your power towards creating it and making it real. It a process which will take time but then it is just like a tree. First you must prepare the soil and plant the seeds which may require a lot of effort in the beginning. But once the tree starts growing then you may harvest and enjoy delicious fruits almost without any effort.
Now... if you do not know what to do and where to start I would recommend you to join the Equal Life Foundation, which has presented and it is working on implementation of the Living Income Guaranteed, which will be a stepping stone in creating a new system in this world which will support peace and life in general.
COMMENTS
---