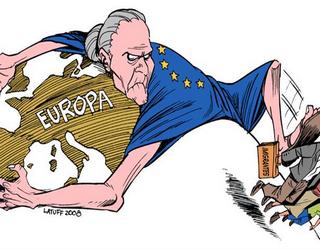 This is the continuation of the previous article:
REFUGEES FROM SYRIA NEED HELP - PART 1
REFUGEES FROM SYRIA NEED HELP - PART 2
REFUGEES FROM SYRIA NEED HELP - PART 3

Most of the time - when we are being asked a question like the one from the end of the last article - we simply say that:
"I am here and the war is out there and there is nothing really that I can do about it".
You'll know... many people would like do something to stop the war but as I said we think that because the war is in another country far away from us then we can do nothing about it.
Then we also have people who believe that they do something about it because they go to church and they pray to god for peace in the world. Unfortunately this is just a belief within their head. I know that some people want to object my statement but look around. We have been praying to Jesus his almighty father for couple of thousands of years and still we have so many wars in the world. And here look at this one:
"For where two or three gather in my name, there am I with them."
I am sure that you have heard it more than once in your life 8 if you are Christian. We have about 1 billion Christians in this world ( and this a big number ) and still the wars continue.
Where is the almighty god while his children die in Syria ?
And then other people meditate and pray to other gods and the result is the same - the wars continue and many people suffer and die as a result of it.
So you'll see... something does not work here. The prayer does not bring any practical change.
And so I will ask again.
How are we going to fix the problem out there in Syria and in Africa so that people don't try to get desperately to Europe ?


To be continued
COMMENTS
---