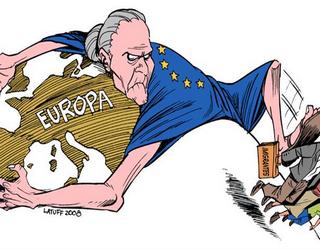 This is the continuation of the previous article:
REFUGEES FROM SYRIA NEED HELP - PART 1
REFUGEES FROM SYRIA NEED HELP - PART 2

Now... here is another interesting point that comes within this whole situation with the immigrants from Syria. Whether the Europe wants it or not, it will have to deal with it simply because many of the Syrians have already got over the borders into the countries of the European Union. And nobody can really deport them back to Syria because that would be almost a crime. And then I also guess that flying a plane over Syria would also be dangerous and the pilots would not like to risk their life either.
And you'll know... this problem with refugees from Syria is going to get ever worse as it does not look like the war is going to end soon and so there will be more and more refugees flooding the Europe. And obviously they will be forced to steal and commit crimes to be able to secure their basic needs ( food, clothes and shelter ).
So I'll guess that at some point we will finally come to the conclusion that if we don't want to have the problem with the refugees and other "illegal" immigrants from Africa ( because this is also another big problem especially in Italy ) then we will have to go to the core of the problem and do something "out there" ( in Syria and in Africa ) so that people may have good life and they are not being forced to search for a better life in Europe. This is a common sense and logic. The only reason why people risk their life to get to Europe is because they live in misery and they don't even have any hope for a change in their situation in the future.
You'll see... we can build high walls and fences on the borders of Europe to protect us from the refugees. But I will tell with absolute certainty that this will not stop the refugees from coming in. And apart from this the costs of building the walls would be many times much higher than actually heling the refugees and "illegal" immigrants. This is like what I said in the previous article that giving a home to homeless person is at least 3 times cheaper than leaving them on the street.
And so here is the most important question:
How are we going to fix the problem out there in Syria and in Africa ?


To be continued
COMMENTS
---