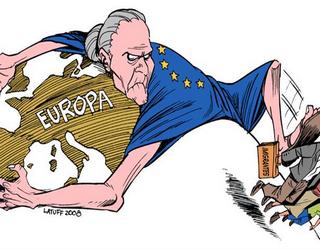 This is the continuation of the previous article:
REFUGEES FROM SYRIA NEED HELP - PART 1

I know that it is easier to say rather than do. But WTF... nobody would like to be in a similar situation and something must be done. If the humanitarian reason is not good enough to help these people than you should use some logic and realise that this people are going to get across the borders to Europe anyway. And once they get there they will have to get food, clothes and accommodation.
And guess what ?
They will work illegally, they will steal and they will do a lot of damage to secure their basic survival needs. Not so long ago I saw an article where somebody was point that giving home to homeless people costs the government and the society 3 times less than leaving people on the street. And the simple reason for it is that these people do damage through robberies and then once they get caught they end up in prison. And the maintenance of this "home" costs a lot of money.
IF THIS IS NOT ENOUGH TO CONVINCE THEN I GUESS THAT YOU AND THE WHOLE EUROPE SHOULD EXPERIENCE THE WAR AGAIN AND MAYBE THIS WAY WE WILL LEARN SOME COMPASSION.


To be continued
COMMENTS
---