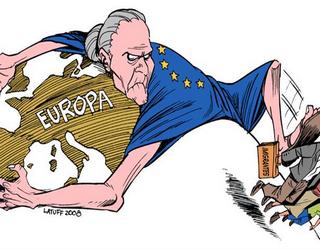 This is the continuation of the previous article:
REFUGEES FROM SYRIA NEED HELP - PART 1
REFUGEES FROM SYRIA NEED HELP - PART 2
REFUGEES FROM SYRIA NEED HELP - PART 3
REFUGEES FROM SYRIA NEED HELP - PART 4

Of course we can send NATO and ONZ troops which would establish "peace" in Syria and this would stop Syrian civilians flee to Europe. But then I would say that now it is too late as there are too many of them already on the way towards Europe and it is not going to be easy to get them back to their country. So now we are dealing with the consequences simply because we have not dealt with the problem when it was small seed and we let it grow into a big tree.
Anyway sending ONZ soldiers to Syria would be just like taking a painkiller to treat the headache. Of course this would get rid of the headache ( war ) but unfortunately because we do not treat the cause of the problem but just the symptom then sooner or later the headache would come back. You'll know... it would be ok to take the painkiller to deal immediately with the headache but then it would be necessary to investigate the real cause of the problem and make the appropriate correction.
But still... is there anything that each of "small and insignificant humans" could do to fix the problem in Syria ?
Well... as I said... now we are dealing with the consequences and so everything is going to be much more difficult and also more painful for the Europeans because the Syrians will have to find a way to survive somehow and unfortunately out of the desperation and not having any other choice they will have to steal and/or commit other crimes. So I would suggest that if you see them in your neighbourhood do something to help them. For example give them food, clothes and shelter if you can. Otherwise even the almighty god will not help you.
And then investigate how come that 2 humans or 2 groups of people come to the point when they decide to fight against each other with the intention to eliminate/kill the opponent. And then look how you deal personally with conflict situations with other people. Because look... if you are not able to find a constructive solution to conflictive situations with other people ( your boss, work colleagues, friends, family etc. ) and you are in war with them, then how can you expect to have peace in this world ? If you are creating war in your direct "environment" and then others do the same that we have big wars in this world. All of this war energy that you and others are creating accumulates and later it must manifest/discharge itself on a global scale as a big war.
Thus if you do not want to have world war 3 then stop giving your energy to it. Stop all of your personal wars and learn how to find peaceful and constructive solutions to all of your conflictive situations. In this way - as I said - you will stop giving your energy towards war and you will become an example to others and this is how you are going to change this world although you are small and insignificant.


To be continued
COMMENTS
---