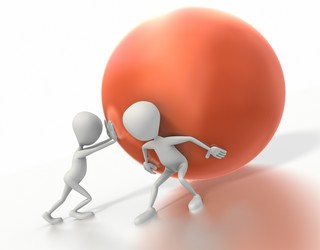 This is the continuation of the previous article:
WHAT IF ?... ALCOHOL WAS PROHIBITED ? - PART 1
WHAT IF ?... ALCOHOL WAS PROHIBITED ? - PART 2
WHAT IF ?... ALCOHOL WAS PROHIBITED ? - PART 3
WHAT IF ?... ALCOHOL WAS PROHIBITED ? - PART 4

I realise that it may not be easy to make the change in your life to stop supporting alcohol industry because at the moment your whole survival in this system depends on it. But I will tell you something... you have made it this way and it is the consequence of what you have created and allowed in the past. I will give you an example which will help you to understand it better.
Imagine that there a huge ball - bigger and heavier than you - in front of you and you want to push it. And you know how it is... you will use all your force, you will struggle and you will try to find a trick to help you to move this ball but it will not move so easy. Maybe even you will need to ask other people to help you and eventually you will move this ball. But in the beginning it will roll very slowly and you will have to use a lot of force to move it every inch. Sometimes there will be a little piece of rock on the ground but this little piece will be enough to stop this huge ball from moving. And you will have to use more force to move the big ball. But eventually the ball will be moving faster and you will need to use less force to move it because the ball will gain its momentum.
Now... here we have a problem because this ball doesn't represent goal which is best for all but instead it represents abuse. And what is even worse that your whole survival becomes dependent on you keeping this ball rolling forward. Thus... the ball has gained its momentum and it is rolling very fast and you have to use relatively very little effort to keep it rolling. But here comes another problem because you are not able to control this ball anymore because of its momentum and if it happens that somebody gets in the way of this ball then this person will be crushed by it. As I said before your survival depends on the ball and thus you make the decision to turn your head away so that you don't see it directly and you justify it within your mind by saying: "I have to pay my bills and I must somehow feed my family". And then we have another problem because others start to do the same and the abuse becomes accepted in the society as something normal.
You'll see... there will be always more and more accumulating problems and you will justify the abuse every time when it happens because you have made you survival dependent on it.

To be continued...
COMMENTS
---