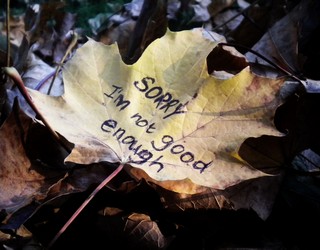 This is the continuation of the previous article:
I AM NOT GOOD ENOUGH - MY FATHER - PART 1
I AM NOT GOOD ENOUGH - MY FATHER - PART 2
I AM NOT GOOD ENOUGH - MY FATHER - PART 3
I AM NOT GOOD ENOUGH - MY FATHER - PART 4

So far I have looked at only one piece ( regarding my relationship with my father ) within the whole mind construct of me "not being good enough". I can also see now that although the particular situations and experiences within my relationship with my girlfriend are different but the underlying pattern is exactly the same.
I can see now that I am expecting from myself more and more because I believe that it is necessary to satisfy and make my partner happy at all costs. There is nothing wrong with making efforts to make my partner happy but when it comes to particular pattern of not regarding myself as good enough ( which is the core belief here ), there is a completely different story because I am expecting from myself to do more, to get more, to have more etc. disregarding myself and crossing the physical limits which brings me to the point of physical exhaustion. And of course there are also many other consequences of it which I will have to face and deal with and they will not be pleasurable at all.
I want to talk with my girlfriend about my realizations and apply the changes and corrections within myself. I will see what she says about it and how she is going to react to my changes. If she doesn't like it and doesn't want to accept it and change herself together with me then her reaction may be the other consequences, which I mentioned above. Anyway... her reaction is not that important here in a sense that I will apply my corrections whether she likes it or not but we may not stay together in a relationship anymore.
Now... of course there is not a coincidence that I have chosen this particular partner who is expecting from me to give her more and more. I give her already all that I have but this is still not enough and she expects from me even more. It is all about my belief about myself.
And I have done the same choice in the past and my partners in the past were giving me the same. But there is a difference between now and the past. Before I was feeling hurt and I was judging my partners that they are not appreciating what I was giving them ( which was all that I had ). This time I can see that I am the creator and cause of it all and now I can take full responsibility for it instead of playing a victim. And I have a chance to make the change and stop recreating the same bullshit in my life. And I have a chance to start to create new relationship. I am not sure yet if my current girlfriend will want to do it with me. We will see. But I will do my part and I will disengage the matrix of my relationships based on the self-belief that I am not good enough.

To be continued...