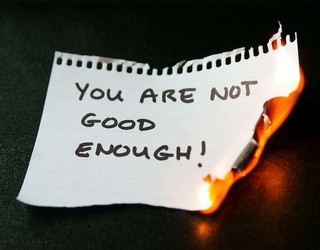 This is the continuation of the previous article:
I AM NOT GOOD ENOUGH - MY FATHER - PART 1
I AM NOT GOOD ENOUGH - MY FATHER - PART 2

All the experiences with my father ( and later I will also write about similar experiences with other people ) were a result of my belief that I am not good enough and I have to take full responsibility because as long as I don't take this responsibility I will never be able to free myself from it. Before I didn't see it ( in the end I didn't want to see it ) and I didn't know what the fuck was going on. As a matter of fact I didn't see anything wrong with me and I have see everything wrong with my father and I was expecting him to change while I didn't have to do anything about it. Pretty much there is always the same pattern behind it - pattern of inequality, giving my power away to something outside of myself and playing the victim.
Thus I admit that I was the cause of all my experiences and one of the reasons behind it was a belief which I have accepted in my mind that I am not good enough. But still within all my experiences with my father he was also part of it and he was co-creator of it. And he also must take responsibility for it. In the end it was him who was trying to manipulate me; he was getting pissed of with me when I was confronting him etc. But the point is that he may still not want to see it in the same way as I do now - I mean admitting that he is co-creator and take full responsibility for it - because he may need more time to realize and understand it. Thus what I will do in this situation is that I apply the self forgiveness and I apply the corrections. And through this I am freeing myself from this particular mind construct, I am disengaging the whole mind construct which existed between me and my father and I am standing as a living example that it is possible to transform this kind of shit in somebody's life and I will also be capable to assist others with similar kind of stuff.
Now... my father as I said may need some more time to get to the point of his own realizations. But at the same time he may look at me ( being a living example ) and he may also decide to stop it and change it in that moment. It is all possible. But if he doesn't want to do it now then he will most probably go and find himself another person which will co-create with him the same kind of shit and will reflect back to him what exists in his mind and of course vice versa.
Thus I will rephrase it all. I am disengaging the whole mind construct with my father, I free myself from it and through this I am also freeing my father from it ( from the co-creation of the mind construct with me ). But if he doesn't want to reflect it back to himself and look at all the beliefs which were part of the whole construct, if he doesn't take responsibility for them and he doesn't free himself from them, then he will most probably go and find himself another person with whom he may continue co-creating the beliefs which he accepted about himself within his mind and go through cycles until he gets to the point when he says "enough" and he will decide to change it. In the meantime there is also possibility that he will be angry and pissed off with me that I don't want to co-create with him anymore.
To be continued...