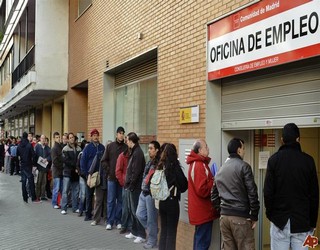 This is the continuation of the previous article:
UNEMPLOYMENT IN SPAIN - JAN 2012 = 5.3 MLN = 22.8% - PART 1
UNEMPLOYMENT IN SPAIN - JAN 2012 = 5.3 MLN = 22.8% - PART 2
SPAIN IS IN CRISIS - INCREASED NUMBER OF ROBBERIES
UNEMPLOYMENT IN SPAIN 2013 - PART 4

In both cases these persons come with the initiative to run a business and generate income for themselves and at the same time for the government ( taxes etc. ). But because the government makes it impossible they will make it anyway unofficially. The will be a risk involved of possible fine if somebody from the tax office or local government finds out but I guess the people have no choice.
As you can see the government instead of helping and assisting people in establishing the business, it makes more difficult or impossible. Instead of supporting the small business and private initiative the government is introducing new laws which help and support big business and international corporations ( hotels etc. ). And I am sure that there are many more examples very similar to these 2. Thus are you surprised that Spain if in the situation with high unemployment ? Are you surprised that the rich get richer and the poor get poorer ? Will you be surprise if the situation in Spain gets even worse then it is now ? Maybe it will be even worse then in Greece because there are more people living here !?
Where is the solution to all of those problems ?
It is going to be extremely difficult to do something about it. It is all possible but it is necessary that people unite and don't allow anymore the bullshit. The problems are not just because of the government. First of all we have allowed this type of government to exist and secondly we have allowed and created the mess and bullshit in our own lives by being greedy egoists. One of the way to deal with the problems would be introducing the new system ( Equal Money System proposed by the Desteni Group ). But still it all about coming to realization that we are one and we must take care of each other and live the principle of what is best for all.


To be continued...