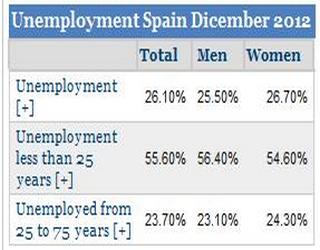 This is the continuation of the previous article:
UNEMPLOYMENT IN SPAIN - JAN 2012 = 5.3 MLN = 22.8% - PART 1
UNEMPLOYMENT IN SPAIN - JAN 2012 = 5.3 MLN = 22.8% - PART 2
SPAIN IS IN CRISIS - INCREASED NUMBER OF ROBBERIES

The number of unemployed people in Spain is very high - about 26.7% - and along with Greece both countries have the highest level within the European Union. But we also have to take into consideration that the population is Greece is about 11 mln while in Spain is 4 times more - about 45 mln - and when we also look at the group age of people below 25 years that number comes to 55.6%. It is kind of scary... isn't it ?
This problem with unemployment in Spain is has been going on already for the last few years and last year in January I have written an article about it because already there the problem was very serious. Last year the official figure of unemployed people stood at 22.8%. Thus as you can see this figure has risen within last year by almost 4%.
As I said before the situation is very serious. The government is saying that it is trying really hard to get this problem under control. If they don't do anything to stop the pace we may reach 30% somewhere at the end of the next year. But this is what the government says in the newspapers and on the TV but the practicality is completely different and to prove it I will use here some examples.
Thus I have spoken with a person who has tried to establish and run a business based on renting the motorbikes to tourists. He lives on the island which is popular destination among tourist from the whole Europe and it makes completely sense. Thus he went to the appropriate offices to start this new business. Do you know what he was told ? According to the law he must have at least 10 vehicles ( motorbikes ), appropriate size garage ( parking place ) for all of the motorbikes and I think that he would also have to buy a special license for running this kind of business ( I am not sure 100% about this one ). Anyway this person had 4 motorbikes and it was impossible for this person to meet the conditions.
Another person wanted to run a business in which he wanted to rent private houses and apartments on a weekly basis to the tourists. Again this person lives in the popular tourist destination and this would be a good idea. Unfortunately this is not allowed because last year the government has brought a new law which makes this kind of activities illegal ( I am not sure whether it is completely illegal or it is required to pay a lot of money for a special license ). And again... WTF ?
*image - http://countryeconomy.com/unemployment/spain


To be continued...