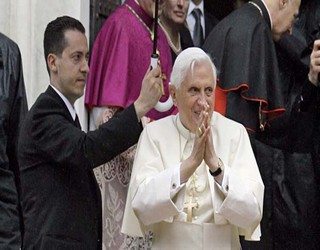 In the last few days I have written a series of articles about heroes:
ABOUT MOVIES AND BOOKS PROMOTING HEROES AND GRAND VALUES - PART 1
ABOUT MOVIES AND BOOKS PROMOTING HEROES AND GRAND VALUES - PART 2
ABOUT MOVIES AND BOOKS PROMOTING HEROES AND GRAND VALUES - PART 3
ABOUT MOVIES AND BOOKS PROMOTING HEROES AND GRAND VALUES - PART 4
And here we are. It is a confirmation of what I have written there. Pope Benedict XVI's butler steals confidential documents and gives them to the journalists because he wanted to expose all the evil and corruption that is going on within the church but within this he will not be glorified for it but instead he will be prosecuted and most probably he will be sentenced for about 4 years in prison for theft. Well... these are the humans laws... you steal something and you go to jail.
But what about the church and Vatican ? Is anybody going to prosecute the Pope or at least his cardinals and priests ?
It is obvious - from the documents - that they are also committing crimes. Corruption is one of their crimes. Isn't it ? I am almost certain that this will not happen ( prosecution ). Why ? There are many reasons why nobody is going to prosecute the Vatican - money, power, sex, mafia etc. And one of the most important reasons is because the majority of people don't want to hear the truth. Christians are so brainwashed and stuck within their beliefs that majority will not act and will find a justifiable excuse to continue with their beliefs in god and support for church while praying for the soul of the butler who's - according to them - has been possessed by the devil.
WTF...!!!!! It is so obvious that the shit is going on within the church. This I can guarantee you. First of all I have seen it myself directly. We also hear about the child abuse, sex affaires etc. in the media. There are many people talking about it. Apart from this - knowing the psychology of the humans - I know that whenever there is money involved people ( including priests ) will go for it, they will forget the values and compromise to get the piece of happiness and power which money gives them in this world.
The shit is going on within the church. The priests are no special messengers from god. If they are then what does it say about god ? How can god be so stupid and choose these corrupted humans for his messengers ? You are simply not being told about it. If you were told all the truth directly in the face you would not support and give your money to Vatican anymore. You would stand up and prosecute them.
The church will never tell you out of good will about everything because this would be like cutting the arteries and veins with the knife. They always did and will continue keeping it secret. Thus it will be necessary that somebody does it through "illegal means" ( e.g. theft, hidden camera or microphone ). Of course there are always consequences of it because the person doing and exposing it will be prosecuted, punished and may even be putting his life in danger.
And this is the real hero. But unfortunately only very few will value it and give him the respect that he deserves.
To be continued...