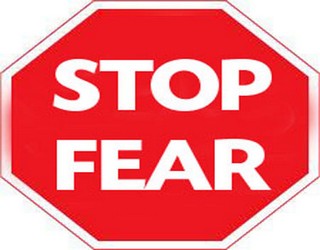 This is the continuation of the previous article:
APPROACHING THE FEAR BARRIER - PART 1
APPROACHING THE FEAR BARRIER - PART 2
APPROACHING THE FEAR BARRIER - PART 3
FINAL THOUGHTS
The most important thing to remember is that fear has been created by us in our own minds. It is not real but this fear ( or rather our participation in creation of it ) creates real physical consequences and even many times people want to deny this fact, they are responsible for all the consequences.
Every available treatment in this world which doesn't take into consideration the fact that we are the creators of the fear will be never effective. It may be effective in treating the symptoms but as long as the root of the problem - which creates the symptoms - is not going to be addressed, it is all useless. Sooner or later the same or even stronger and nastier symptoms will manifest themselves on the surface.
To deal effectively with the fear we must stop denying that we have created it and only then we can do something about it - stopping creating it further. But even though we stop creating the fear today we will quite often have to go through the phase of walking through and facing physical consequences which may take some time. This is simply the result of our creations in the past and it takes time before it stops. In those moments - and it may seem difficult and discouraging - we must continue with our application of stopping creation of the fear and eventually most of the consequences resulting from creating the fear will disappear and we will have manifestation of our new creation - hopefully without fear and what is best for all.
Thus we must accept and take responsibility for the creation of fear. This is the only way to go. I know that it may be difficult to do it but there is no other way. We must accept it and learn ( the same as a baby is learning to walk ) how to deal with it. We must learn how to take responsibility and how to stop creating fear. We must learn how to create what is best for all and live it absolutely and only then we can expect to have better life - "DESTENI I PROCESS" COURSE.