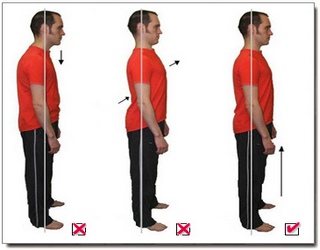 I am catching up with posting online my articles.

So why do we miss this simple and obvious point ?
Well... the answer is very simple:
It is because we focus our attention on treating the symptoms instead of treating the real cause of the problem.
And why don't we treat the cause of the problem ?
Well... for some reason we decide to suffer and struggle in our life.
And why is this ?
Well... for some reason we have accepted the belief that suffering is good ( e.g. in Christianity and few other religions ) and/or we believe that we cannot change it because we think of ourselves as powerless ( here comes also the religion as an explanation of this fact ).
So what are we going to do about it ?
Well... from past experiences it looks like we cannot force anybody to change their beliefs and/or habits about how they walk, stand etc. But what we can do about it is first to become the living example of it which means that we need to learn how to maintain good posture and then apply it practically in our life. And only then we can teach and educate other ( those who are willing to listen and apply this knowledge practically ).
And so this is my job and my commitment to do it with people. I show them and I teach them. I spent extra time with my clients explaining this subject.
Why do I do it ?
WELL... IT IS BECAUSE I KNOW THAT ONCE THE WORLD CHANGES THEN THE AXIS CHANGES. AND THEN IT IS ALSO ABSOLUTELY VALID THAT ONCE THE AXIS CHANGES THEN THE WORLD CHANGES. AND SO ONCE I CHANGE THE AXIS OF PEOPLE THEN I WILL CHANGE THE WORLD.
COMMENTS
---