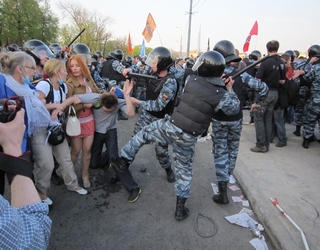 I am catching up with posting online my articles.

This should be DAY 621. I have messed up with counting the numbers and days while catching up with posting online my articles.

This is the continuation of the previous article:
POLICE VS DEMONSTRATORS - PART 1
POLICE VS DEMONSTRATORS - PART 2
POLICE VS DEMONSTRATORS - PART 3

Here is another important point when it comes to demonstrations and confrontations with police.
In the whole confrontations we have demonstrators who have good intentions, they believe that they are right and they are charged with emotional energy which gives them sensation of power and on the other hand we have policeman who are very well equipped, trained in techniques of fights and self defense and they are well organized. In a sense it is something like a confrontation of the power of emotions vs power of the tanks and physical force.
But within this analogy to "tanks vs emotions" I want to accentuate one important thing. It only applies from the moment when the first fight starts because before this point the demonstration carries certain element of power. It is intermixed with emotional charge and illusion of emotional power but yet it carries this element of power of people who try to stand up and say through getting together and manifesting on the street that they don't allow it anymore. But the moment they allow the emotions to explode and start to fight and abuse policemen with words this element of power is completely dispersed and people loose their case completely.
Now... although policemen are organized and don't explode in emotions they don't represent the element of real power either. But yet they "win" the confrontation. What is the difference then ?
Policemen do not explode in emotion but this is only the result of the suppression which has been achieved through brainwashing which is done during the training and working in the police for some time. They have been taught and obliged to listen to the orders of their officers and follow certain rules. And thus they do manage somehow to not explode in emotions. Well... not completely and not effectively. If you observe carefully you will also see that the policemen let themselves to be directed by the emotions as well. And this is visible in the act of overreacting and beating up brutally this smaller girl with the billy club and throwing her on the pavement.


To be continued...
COMMENTS
---