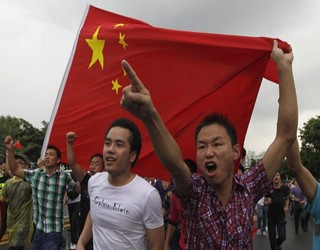 This is the continuation of the previous article:
DAY 126 - ANTI JAPANESE PROTESTS IN CHINA OVER ISLANDS DISPUTE - PART 1
DAY 127 - ANTI JAPANESE PROTESTS IN CHINA OVER ISLANDS DISPUTE - PART 2

On the 19th and 20th of August I wrote an article about anti Japanese protest in China because of the dispute over some islands. Both countries want to have the islands for themselves and don't want to let it go. The governments don't try to find constructive solution which would be best for all and insist that it belongs to them respectively. Thus we have no solution, the protest continue and they become even more violent.
Few weeks ago I mentioned that this could easily develop into a war situation and it is all going in that direction. Why would there be a war over such a small thing ? It is because once people get emotional ( anger, hatred, jealously, greed ) they become unpredictable and then it is easy to make something stupid which would really provoke the war.
Anyway... what mind patterns can be seen in here ?
1. I can never have enough.
China is on the way to become the biggest economy in the world but yet for them this is not enough and they want to have more.

2. If I cannot have it all for myself then I will not allow other to have either.

3. I want to show that I am right at all costs and I justify the use of force and violence against innocent people.
In the protest in China the demonstrators attack and abuse Japanese who leave in China even though they have nothing to do with the island. Being Japanese is enough reason to attack them.