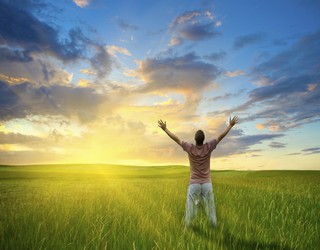 I am catching up with posting online my articles.

This morning I woke up with muscle pains. It was not extreme but still going for the first time to the gym makes this happen. So I did today no exercises to give my body break and time to recover.
Apart form the muscle aches I had energetical hangover symptoms. I had a cancellation during the day and I allowed myself to sleep to get over it. But this was not enough. It was basically all day. In the evening I sat down on the sofa with the idea of going to sleep without meditation. But I did not do it. I was lying down and I was changing the state of mind. Instead of giving my power to this hangover I started to smile and bring the joy from my inside. Shortly I started to notice the change in my state. And although I did not feel like it at all I decided to meditate. It was really great meditation and it helped me further to get over it.
Now... the important lesson from it is that there is not need for me to sink more and more into this state of hangover or whatever it is by giving it my attention, energy and power. Instead I can focus on what I want and bring it into my life in the moment. What is also important to share is that I do not allow myself to fall into self destructive behaviour by doing some silly things like spending senselessly long hours on the computer which makes me further tired. Instead I break through it and I do something that is constructive and supportive to me like breathing, meditation etc.
COMMENTS
---