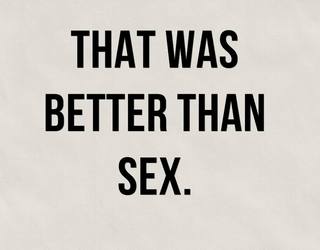 I am catching up with posting online my articles.

But even though the sex life of many people is boring and limited we still use the expression of "is it better than sex" or "as good as sex". We have just simply taking it for granted. We have just assigned a positive value to it and we have accepted it in our mind as absolute truth. But the reality is different. Sex an be good but just like anything else we need to learn and practice it to become masters in it.
But practicing sex does not mean that you are gong to be good at it. This is like a dance. You may go to the dance classes but this does not give you the guarantee that you are going to be a good dancer. Even having the best dance teacher does not give you this guarantee. It is simply that if you do not put your hearth into it then you will not be good at it.
JUST GO TO ANY DANCE PARTY AND OBSERVE HOW PEOPLE DANCE. MOST OF THE PEOPLE CAN DANCE BUT IT IS NOT DIFFICULT TO SEE IF SOMEBODY DANCES GOOD.
And so is the same with sex. You can do it but it does not give you guarantee that you are going to be good at it especially that many people do not learn about it but simply do the "in and out thing".
Thus we wish to have sex and we desire to have sex because we have accepted the belief that this is something that would give us the utmost pleasure. And I will say it again. YES... sex can be very pleasurable but you must first learn about it and then apply in practice what you learn. And with the time you may be good at it
But how many people in this world actually want to learn something more about it ?
I tell you with absolute certainty... NOT SO MANY...
And in the end this thing with sex as "ultimate pleasure" is just an illusion and the phantasy in the mind of the people.


To be continued
COMMENTS
---