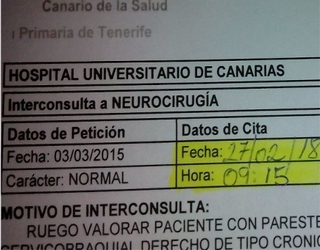 I am catching up with posting online my articles.

Today I saw on Facebook a photo which showed that somebody has been scheduled for an appointment to see the specialist doctor in 2018. Look at the photo. The date of the petition is 3rd of March 2015 and the date to see the specialist is 27th of February 2018 at 09.15 A.M. This is not a typo. You'll see... this happened locally on the island where I live thus I know that this is true.
Here is the link to the article ( thouhg it is in Spanish ) - TIENE USTED CITA EL 27 DE FEBRERO... DE 2018
Obviously you want to ask and say ( or I should rather use the word "SHOUT" ):
"WTF !!!!!!!!!!!!!!!!"
And this happens in Spain which has been ranked number 7 on the list with the best health care systems in the world.
So this is really sick... isn't it ?
Now... how is it possible that Spain takes 7th place in the ranking if the patients have to wait 3 years for an appointment with the specialist ?
Well... look... you have to wait for such a long time for an appointment if you have the public health insurance. But if you can afford to pay private insurance then you would be able to get the appointment with the same specialist within 7 days and maybe even the next day.
So I have to say again that this is really sick !


To be continued
COMMENTS
---