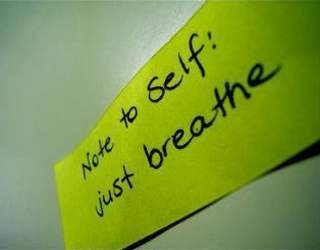 I am catching up with posting online my articles.

The Desteni Group is talking about and putting a lot of emphasis on the awareness of breath. They are suggesting to do the 4 count breaths in which you take breath in, you wait, you breathe out and you wait ( all of these intervals take more or less the same amount of time ).
And the big question is if that is possible at all ?
Well... if they are talking about it then it means that they have tried it already and it is possible.
OK... but why does it not work it for me ?
Technically speaking it is all very simple. All that we need to do is just breathe and be fully aware of every breath. But although it is so simple practically it is one of the most difficult things to do in this world.
YES... I am not exaggerating. It fucking difficult... It is so difficult that it seems impossible and then many people who try it give it up very quickly.
If you focus on it then you can do few or maybe even 20 breaths. But then you start doing something or there appears a thought in your mind which you start to follow and there you go. Your awareness is gone. You can start again but then the situation repeats itself. And you do it maybe 10 times or more and you tell yourself that you will do it later. But in reality you forget about it until the next moment when you start reading the articles or watching the video interviews from Desteni. Or you completely give it up on it.
You may even write down on a piece of paper that you should breathe and stick it to your fridge or maybe even TV or computer screen but soon this paper becomes "invisible". You'll know... physically it is there where you placed it but yet you get used to it, you ignore it and you don't pay attention to it.
And you may ask yourself: "WTF is going on here ?"...


To be continued...
COMMENTS
---