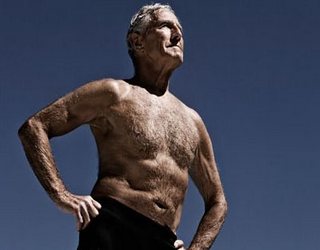 I am catching up with posting online my articles.

Not so long ago I heard from couple of people saying that they would not like to live long ( e.g. over 100 years ). And I was really surprised because I thought that all of us would like to live long. Because if we take into consideration the point of how much effort is being put into research and study about the anti-aging creams, beauty treatments etc. to make us look younger and then also the point trying to find "the healthy" diet and healthy life style to prolong our lives, then this does not make sense to hear that somebody does not want to live long. I understand the point of not wanting to live long in the case of being sick, crippled, being stuck in the wheelchair etc. and not being able to have "live style. But here comes my question of:
"Why do we immediately associate old age with being sick and crippled ?".
This is a clear example of limitation which we put into our mind and program ourselves to become exactly that... isn't it ? I know that the percentage of people who are old and sick is rather high in our society but this is not something that must be taken for granted and accepted as something fixed. I know for sure that it is possible to live long and not be sick. It is a matter of taking care of ourselves and our bodies and then it is something normal and natural to be healthy and fit despite old age.


To be continued...
COMMENTS
---