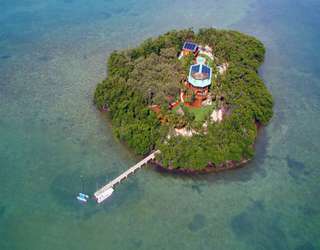 I am catching up with posting online my articles.

This is not the first time when I hear that some people dream about and desire to have a small private island so that they could enjoy their life and keep away from all this "stupid" people.
You'll know... there is nothing wrong with living on the island ( even alone or with few close fiends and family members ) but the attitude and the intention, which lie behind the desire of these people that I know is really fucked up. I don't know if you see the obvious point in this situation but this is typical approach of humans who try to deal with the symptoms instead of correcting the cause of the problem.
I know that if you have a lot of money then you could buy yourself a small island, build luxury villa and live there "happily" alone or with few friends and servants for the rest of your life here on earth. But you'll see... I guarantee you that you will not be happy on this island. You may be smiling or you may laugh a lot but this happiness will be only very superficial. I know that you will try to deny what I am saying but unfortunately the fact is that your happiness is superficial. And the reason for it is that your "happiness" is build on treating symptoms and not dealing with the real cause of the problem.


To be continued...
COMMENTS
---