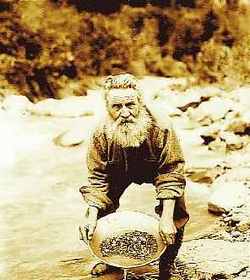 I didn't have access to internet yesterday thus I am posting my article today.

I remember that as a child I have read some books about Wild West, the Indians and the gold rush. Later I have also heard something about it in my classes of history at school. And today I have understood that this gold rush is still existent today in 21st century. I have realized that the source of the gold rush comes from the mind and it is the same as it was in the past. The only difference is that today it took on a little bit different form in the physical world.
I remember that something like this happened to me already many times. First I got an idea about starting the business and then here we go - the gold rush. I become excited about it, I start to think intensely and I let my imagination to run wildly and I see myself already very rich quickly. I start to experience energetic high which gives me the motivation to go for it. And then I start to work long hours on the project. Then it all depends how and when but sooner or later this energetic high ( gold rush ) runs out and quite often I ended up with investing a lot of resources ( long hours of work ) and with little or no profit ( in the form of money ) at all. And I guess the same happened with all the people in the past who heard some stories about people who found gold field and who became rich very quickly. Later - based on this story - they started to make themselves wonderful films in their minds of being rich and decided to go on the search for gold.
Thus - although there are some differences on the outside - the whole energetic mind pattern behind this gold rush is exactly the same.
To be continued...