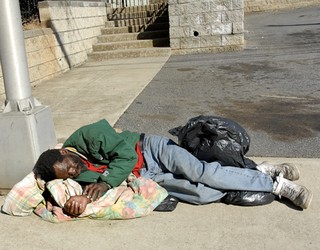 We have to make it clear - not every homeless person is unhappy about their situation. Some people simply prefer to live in the nature or even on the street and they are content with their situation. And even though somebody offers them accommodation and help, they prefer to stay on the street. But apart from small group of beings who are doing it out of free choice there is also a big group of people in the world who are homeless and live in the conditions which are below any acceptable norm and they are unable to do anything to change it even though they want to.
There are various local and international non-profit and government organizations which are trying to help these people but unfortunately their effectiveness is very, very low. I don't have any exact statistics about homeless people but I know that this problem is extensive. We have about 1 billion people who are not getting sufficient nutrition and thus I would say that we have similar number of people who live in the conditions, which are below any acceptable norm e.g.: - 5-10 people living in a small room which normally is regarded as single room
- some people sleep at night and other sleep during the day in the same room
- there is no running water
- no toilet
- no fridge, oven
- etc.
Now... 1 billion people is a big number and thus it seems that it is impossible to help everybody. Thus we just have to accept it and try to help as much as we can even though we help only "few". There are so many geniuses and very intelligent people in this world and still they cannot work out the solution for it.
To be continued...